Butternut Queso Fundido
Grab a chip and get dipping! This cheesy snack sports two-thirds less fat than the classic dish and gets extra richness from butternut squash .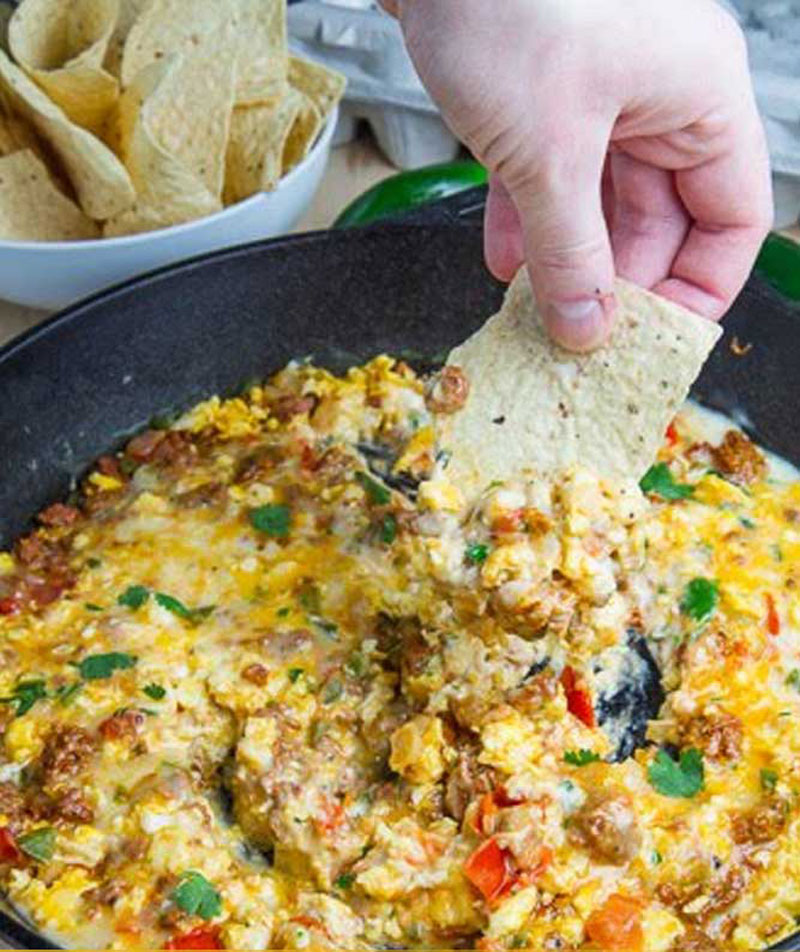 Yield :
Serves 10 (serving size: 1/4 cup fundido and 3 chips)
Total Time :
30 Minutes
Ingredients :
1 1/2 tablespoons all-purpose flour
1/4 cup unsalted chicken stock
1 (10-ounce) package frozen butternut squash puree, thawed
1 tablespoon minced chipotle chile in adobo sauce, plus 2 teaspoons adobo sauce
3 ounces shredded Oaxaca or part-skim mozzarella cheese (about 3/4 cup), divided
3 ounces shredded reduced-fat 4-cheese Mexican-blend cheese (about 3/4 cup), divided
1/3 cup very thinly sliced radishes
1/4 cup fresh cilantro leaves
3 tablespoons sliced green onions
2 tablespoons thinly sliced jalapeño pepper
Preparation :
1. Heat oil in a medium cast-iron skillet over medium heat. Add red onion; cook 5 minutes or until softened. Add flour; cook 2 minutes, stirring constantly. Add stock, squash, chipotle, and adobo sauce; bring to a boil. Reduce heat to medium-low; add 2 ounces Oaxaca cheese and 2 ounces Mexican-blend cheese; cook 2 minutes or until smooth, stirring until cheese melts.
2. Preheat broiler to high.
3. Sprinkle remaining cheeses over top. Broil 2 minutes or until cheese is bubbly and lightly browned. Top with radishes, cilantro, green onions, and jalapeño. Serve with chips and celery sticks, if desired.