Chimichurri Beef Meatball Hoagies
The sauce makes plenty for cooking the meatballs, and there's even enough to spoon over the sandwiches for a boost of flavor.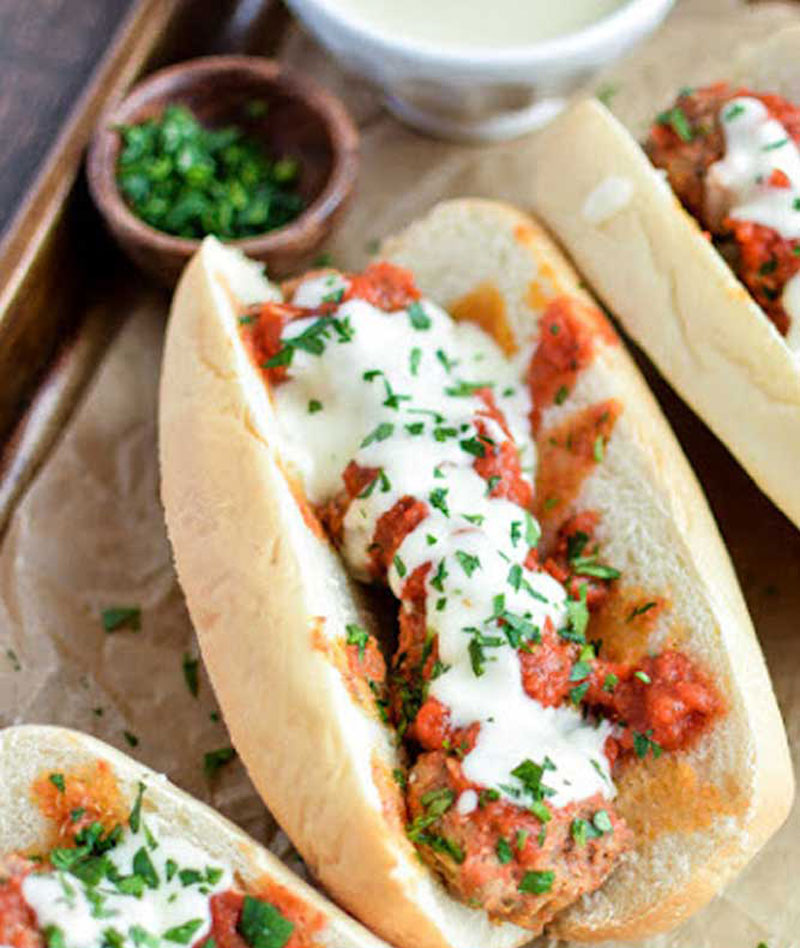 Yield :
Makes 6 servings
Total Time :
2 Hours, 30 Minutes
Ingredients :
1 1/2 cups fresh cilantro leaves, divided
1 cup fresh parsley leaves, divided
1 1/2 pounds ground sirloin
1 cup soft, fresh breadcrumbs
1/4 teaspoon dried crushed red pepper
1 large egg, lightly beaten
3/4 teaspoon kosher salt, divided
1/2 cup canola oil, divided
1 shallot, coarsely chopped
1 jalapeño pepper, coarsely chopped
2 tablespoons fresh oregano leaves
1/4 cup extra virgin olive oil
1 (10-oz.) package finely shredded (angel hair) cabbage
1 cup crumbled Cotija cheese
Preparation :
1. Chop 1/2 cup cilantro leaves and 1/4 cup parsley leaves; place in a large bowl. Mince 2 garlic cloves; add to herbs in bowl. Add ground sirloin, next 3 ingredients, and 1/4 tsp. salt; stir gently to combine. Shape mixture into 18 balls.
2. Heat 1 Tbsp. canola oil in a large nonstick skillet over medium-high heat. Add half of meatballs, and cook 6 minutes, turning often to brown all sides. Transfer meatballs to a 6-qt. slow cooker. Repeat with 1 Tbsp. canola oil and remaining meatballs.
3. Process vinegar, next 4 ingredients, and remaining cilantro leaves, parsley leaves, garlic, salt, and canola oil in a food processor until finely chopped and well combined. Stir together 1/2 cup herb mixture and 1/4 cup water; pour over meatballs in slow cooker. Reserve remaining herb mixture. Cover and cook on LOW 2 hours.
4. Remove meatballs from slow cooker with a slotted spoon; discard mixture in slow cooker. Toss meatballs with 1/4 cup reserved herb mixture.
5. Preheat broiler with oven rack 6 inches from heat. Brush cut sides of rolls with extra virgin olive oil; place on baking sheet. Broil 2 minutes or until golden brown.
6. Toss together shredded cabbage and 1/2 cup reserved herb mixture. Divide cabbage mixture among rolls; top each roll with 3 meatballs and desired amount of cheese. Serve with lime wedges and any remaining herb mixture.