Grilled Chicken Thighs with Sweet Onions and Peppers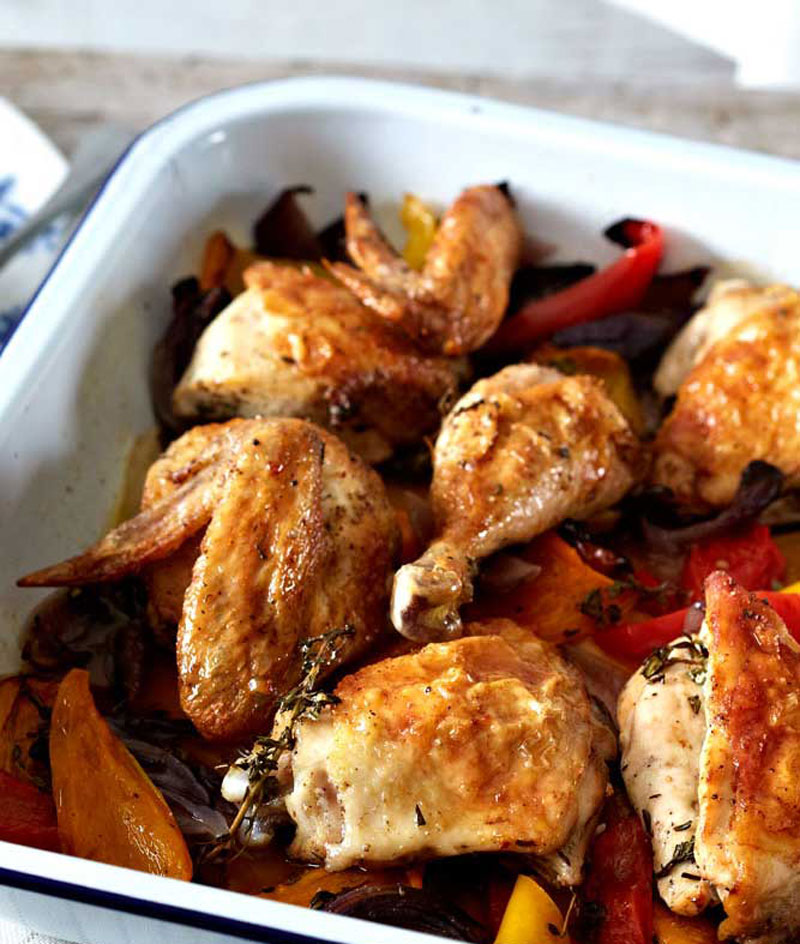 Yield :
Makes 6 servings
Total Time :
1 Hour, 30 Minutes
Ingredients :
1/4 cup extra-virgin olive oil
2 red onions, thinly slivered lengthwise
1 1/2 pounds sweet peppers (such as red bell or Gypsy), stemmed, seeded, and slivered lengthwise
1/2 cup ruby Port
1/3 cup drained capers
3 tablespoons chopped fresh thyme leaves Salt and freshly ground pepper
12 chicken thighs (6 to 8 oz. each)



1/4 cup chopped Italian parsley
Preparation :
In a large pan over medium heat, warm the olive oil. Add onions and peppers, cover, and cook, stirring occasionally, until very juicy and almost soft, 16 to 20 minutes. Add the Port, capers, and thyme; stir often, uncovered, until all the liquid has evaporated and vegetables are very soft and sweet and beginning to brown, 25 to 35 minutes longer. Remove from heat. Season with salt and pepper to taste.
Up to 2 hours before serving, in an 8- to 10- quart pan over high heat, bring about 3 quarts water to a boil. Rinse chicken, remove excess fat, and immerse in boiling water. Return water to a boil, then cover, reduce heat, and simmer until meat is no longer pink in the center of thickest part (cut to test), about 15 minutes. Lift chicken from water; drain and pat dry. Reserve broth for another use.
Sprinkle both sides of chicken with salt and pepper. Lay thighs, skin down, on an oiled grill over a solid bed of medium-high coals or medium-high heat on a gas grill (you can hold your hand just above grill level only 3 to 4 seconds); cover gas grill. Cook chicken, turning once, until browned on both sides, 5 to 9 minutes total. Transfer to a platter. Spoon onion-pepper mixture over chicken and sprinkle with parsley.
Wine pairing:
A dry, fruity rosé with crisp acidity.
Note:
Nutritional analysis is per serving.
Notes:
Parboiling the chicken eliminates flare-ups on the grill. You can prepare the onion-pepper mixture through step 1 up to a day ahead; stir over low heat to rewarm. You can prepare the chicken through step 2 up to 2 hours ahead; cool, cover, and let stand at room temperature, then grill to serve hot.