Stacked Chicken Enchiladas
All of the goodness of an enchilada stacked into a casserole. This is loaded with cheese, olives, black beans, corn, chicken.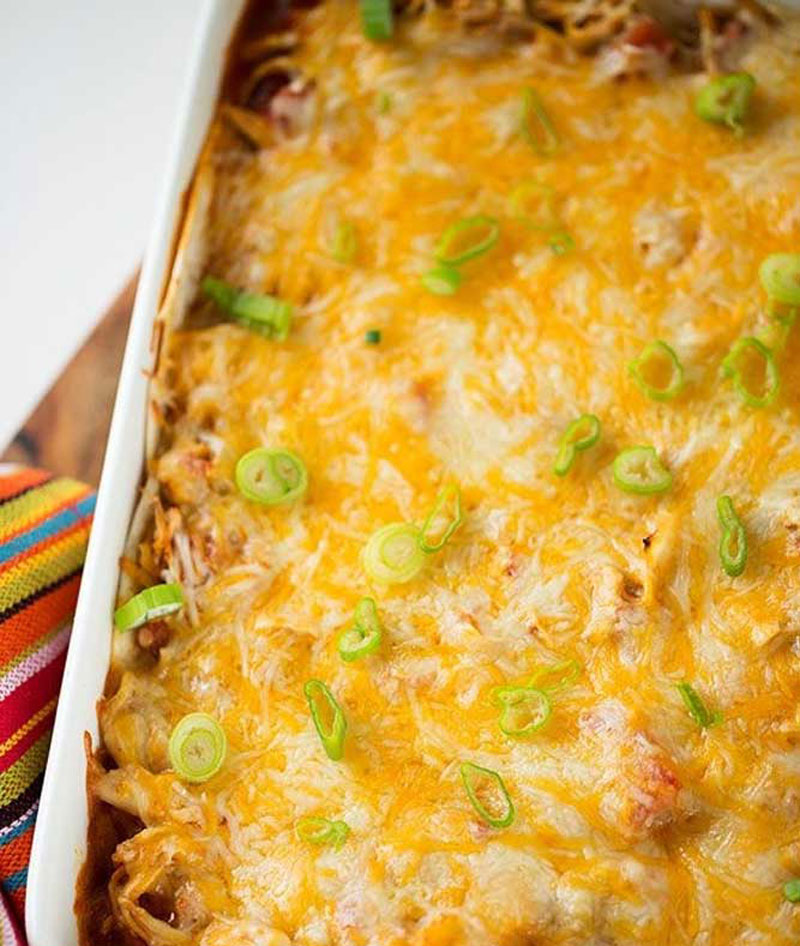 Yield :
Serves 18 (serving size: 1 bar)
Total Time :
3 Hours, 41 Minutes
Ingredients :
2 cups certified gluten-free quick-cooking oats
1 cup flaked sweetened coconut
1/2 cup sunflower seed kernels
1/2 cup sweetened dried cranberries or dried cherries, chopped
1/2 cup dried apricots, chopped
1/2 cup whole pitted dates (about 10 dates), chopped
3 tablespoons brown sugar
1 teaspoon vanilla extract
Preparation :
1. Preheat oven to 350°.
2. Line a 13 x 9-inch metal baking pan with foil, allowing foil to extend over the edges of the pan; coat foil with cooking spray.
3. Place oats, coconut, sunflower seed kernels, and flaxseed on a baking sheet, spreading evenly in a single layer. Bake at 350° for 10 to 12 minutes or until toasted, stirring every 5 minutes. Remove oat mixture from oven. Reduce oven temperature to 300°. Combine oat mixture, cranberries, apricots, and dates in a large bowl.
4. Place honey, maple syrup, brown sugar, butter, vanilla, and salt in a small saucepan, stirring to combine. Bring honey mixture to a boil over medium heat. Boil 1 minute, stirring constantly with a whisk. Immediately pour honey mixture over oat and fruit mixture; toss gently with a rubber spatula to coat.
5. Firmly press oat mixture into prepared pan, using a rubber spatula or hands coated with cooking spray to create an even layer. Bake at 300° for 30 minutes or until slightly golden brown. Cool completely in pan on a wire rack. Lift bars from pan, using foil sides as handles. Place on a cutting board; cut into 18 bars. Remove bars from foil.