Stuffed Chicken and Herb Gravy with Creamy Polenta
Chicken stuffed with provolone and prosciutto served with an herb gravy over creamy polenta and bacon Brussels sprouts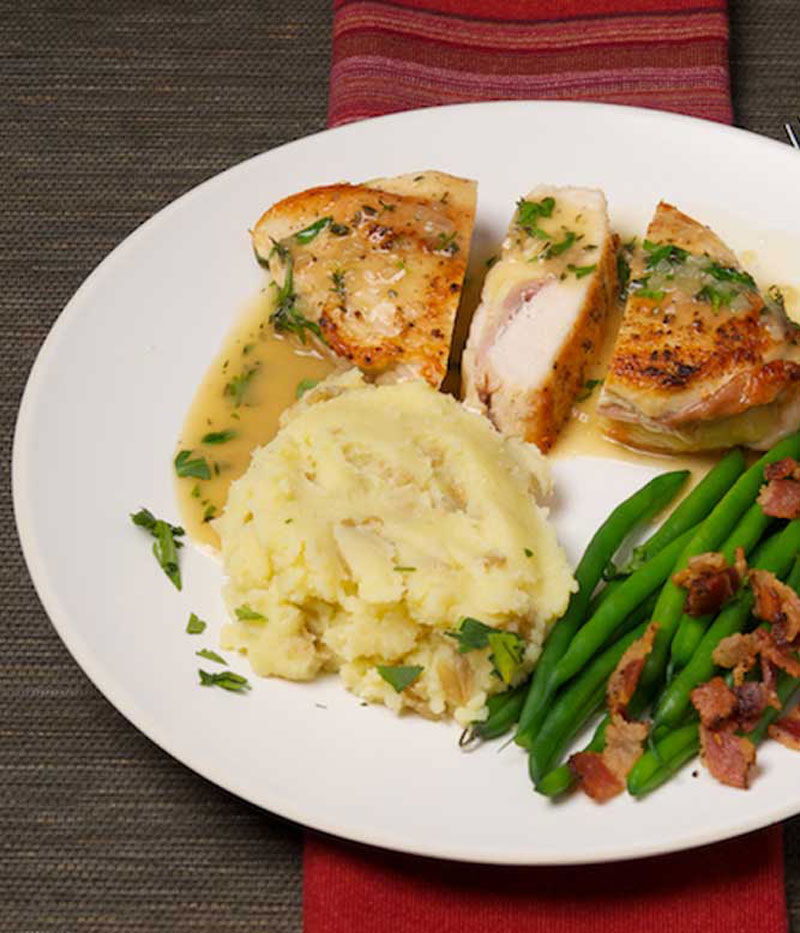 Yield :
Serves 4 (serving size: 1 stuffed breast half, 3 tablespoons gravy, and 1/2 cup polenta)
Ingredients :
4 (6-ounce) skinless, boneless chicken breast halves
2 very thin prosciutto slices (about 1/2 ounce), halved
4 (2/3-ounce) slices reduced-fat provolone cheese
1/4 teaspoon freshly ground black pepper
2 tablespoons minced shallots
1 tablespoon chopped fresh thyme
1 1/2 cups unsalted chicken stock (such as Swanson), divided
1 tablespoon all-purpose flour
1 1/2 tablespoons unsalted butter
1 tablespoon chopped fresh flat-leaf parsley
1 1/2 teaspoons chopped fresh tarragon
Preparation :
1. To prepare chicken, cut each breast horizontally to, but not through, the other side to create a pocket. Lift top flap of chicken pocket; arrange 1/2 prosciutto slice in each pocket. Top each prosciutto slice with 1 cheese slice; press top flap of pocket down over filling. Heat a large skillet over medium-high heat. Add oil; swirl to coat. Sprinkle chicken with pepper. Add chicken to pan, top side down; sauté 5 minutes or until deeply browned. Turn and cook 4 minutes or until done. Remove from pan; keep warm.
2. Add shallots and thyme to pan; sauté 30 seconds, stirring constantly. Combine 2 tablespoons stock and flour in a small bowl, stirring with a whisk. Add flour mixture and remaining stock to pan. Bring to a boil; cook 3 minutes or until reduced to 3/4 cup, scraping pan to loosen browned bits. Remove from heat; stir in butter, parsley, and tarragon.
3. To prepare polenta, bring milk and 1/3 cup water to a simmer. Gradually add polenta, stirring constantly with a whisk. Cook 3 minutes or until thick, stirring constantly. Stir in 1/4 teaspoon salt. Serve polenta with chicken and gravy.
For Ingredients And Complete Cooking Instructions Please Head On Over To Next Page Or Open button (>) and don't forget to SHARE with your Facebook friends