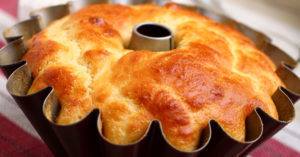 Full disclosure: You won't be able to stop eating these creamy, cheesy spuds. These crowd-pleasing potatoes are layered in a bundt pan to make an impressive dome shape. …When we pull out our Bundt pan, we're usually expecting to make a something sweet, like a cake, but here's a savory bread recipe we've totally fallen in love with. This cheesy Bundt bread is a yummy side dish when we're having a nice big Caesar salad for lunch, and it's also a lovely choice to pair with pasta in place of garlic bread (and it has just enough garlic to make it feel just right). It's a light bread that's full of flavor and has a fabulous texture and tang thanks to the sour cream and Greek yogurt. We'll whip this up for brunch or take its savory, cheesy goodness to share with our neighbor.
Cheesy Bundt Bread. Although many of us probably have Bundt pan laying around our kitchen somewhere, we probably don't break it out all too often. For those who don't know, the Bundt pan traces its origins back to European brioche-style cakes called Gugelhupf which were particularly popular among European-Jewish communities. Still, the cake molds have spread around the world and are typically used for sweet dessert dishes. With the advent of the internet, however, the Bundt cake pan has been repurposed for all number of recipes and food hacks. You know how when people really like something, they call it "The greatest thing since sliced bread"? Well, I never could see what's all that great about sliced bread. It's handy for sandwiches, sure. But it's not nearly as much fun as pull apart bread.
Ingredients
3 cups all-purpose flour, sifted
1 cup sharp Cheddar cheese, grated
1 cup Parmesan cheese, grated
2 large eggs
3/4 cup sour cream
3/4 cup plain Greek yogurt
1/2 cup unsalted butter, melted
1 teaspoon baking soda
1 tablespoon baking powder
1 teaspoon salt
1/2 teaspoon garlic powder
1/2 teaspoon onion powder
PREPARATION
Preheat oven to 350°F. Spray a Bundt pan with non-stick cooking spray, and spread evenly around pan with a paper towel.
Mix flour, baking soda, baking powder, salt, garlic powder, and onion powder in large bowl until combined.
Whisk together eggs, sour cream, and Greek yogurt. Pour mixture into dry ingredients. Add melted butter and stir to combine.
Mix Cheddar cheese and Parmesan cheese into mixture. Pour batter into Bundt pan, spreading evenly to edges.
Bake for 50-55 minutes, until inserted toothpick comes out clean. Remove from oven. Cool 10 minutes before slicing.
See original recipe at food.12tomatoes.com