THIS RECIPE FOR ONE POT BRAISED CHICKEN THIGHS WITH CARROTS AND POTATOES COMBINES SEARED CHICKEN AND TENDER VEGETABLES IN A SINGLE DISH THAT MAKES FOR AN EASY AND HEALTHY DINNER.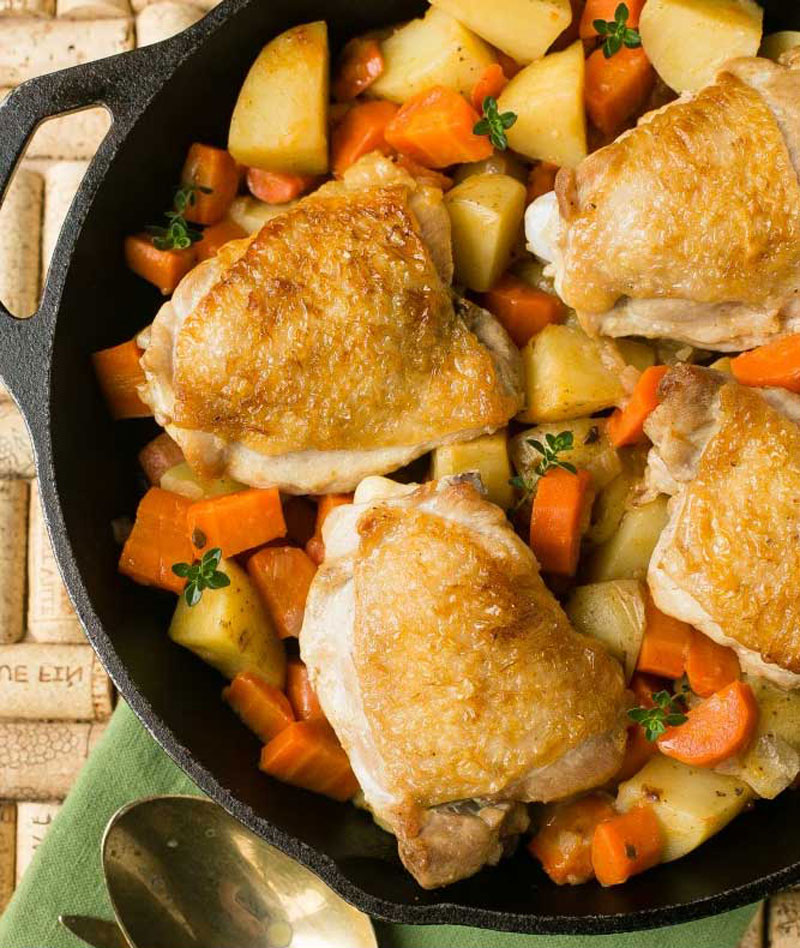 Yield :
Makes 6 servings
Ingredients :
1 medium onion
4 medium-size new potatoes (about 1 lb.)
2 cups baby carrots
1/4 cup chicken broth
1/4 cup dry white wine or chicken broth
1 teaspoon minced garlic
1/2 teaspoon dried thyme
1 1/4 teaspoons salt, divided
1/2 teaspoon pepper, divided
1 teaspoon paprika
6 skinned, bone-in chicken thighs
Preparation :
Halve onion lengthwise, and cut into 1/4-inch-thick slices. Cut potatoes into 1/4-inch-thick slices. Place onion in a lightly greased 6-qt. slow cooker; top with potatoes and carrots.
Combine broth, next 3 ingredients, 3/4 tsp. salt, and 1/4 tsp. pepper. Pour over vegetables.
Combine paprika and remaining 1/2 tsp. salt and 1/4 tsp. pepper; rub over chicken. Arrange chicken on top of vegetables.
Cover and cook on LOW 6 hours or until chicken is done and vegetables are tender.