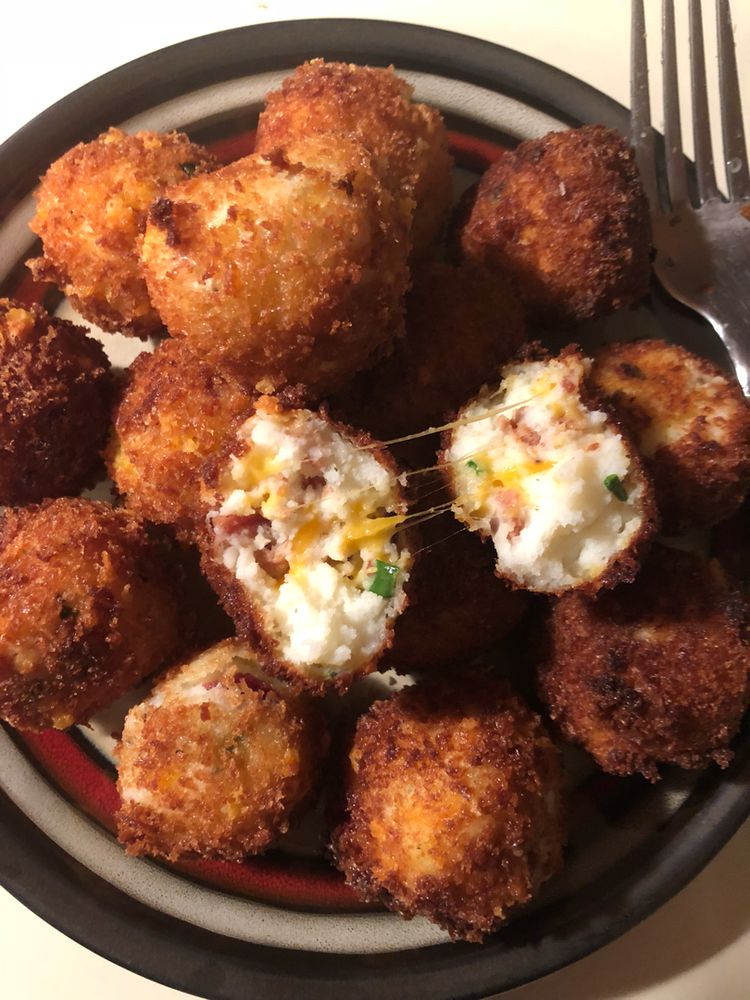 The key to making this recipe is to use chilled, firm mashed potatoes. Serve these fried mashed potatoes with sour cream or ranch salad dressing on the side. When I was a kid, I can remember going to a University of Kentucky football game. If any of you know anything about Kentucky, you'll know how horrible of an idea that even is. When we got there, it started to snow. It continued to snow. Eventually, someone in my family was able to pry their frozen ass off of the metal bleachers, making their way to the gift shop to buy a bunch of overpriced blankets in an attempt to return the life to everyone seated in the blizzard.
I do hearby declare that this is the first 'fried' recipe on my blog. Don't get me wrong we do occasionally eat fried foods it's just not something I choose to make a habit out of for my family. We try to go with healthier versions. But after sighting these at Taste of Home website I simply couldn't resist trying them.
Hope everyone has a wonderful Thanksgiving tomorrow! I am feeling pretty well prepped. I am a little bit worried about the turkey though. We have fried our turkey for probably the last 7 years or so, but I decided I wanted to roast it this year. But it's been so long since I've roasted a turkey, I don't even remember how I did it.
For Ingredients And Complete Cooking Instructions Please Head On Over To Next Page Or Open button (>) and don't forget to SHARE with your Facebook friends