I get lots of hand-me-downs from my mom, and I wasn't quite sure what to do with this Over toiler spacesaver shelf…but inspiration hit me a few days ago. Check out this fun upcycle project!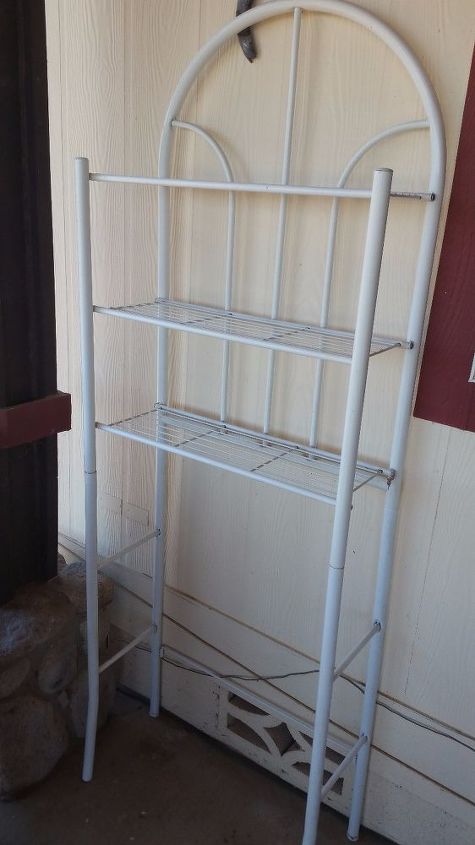 I needed something to display my patio jade garden, but wasn't crazy about having a white bathroom piece on my patio, as it just doesn't go with the rest of my decor…plus it looks like it belongs in a bathroom (haha)…so I had to find a way to doll it up. Painting it was out, since I didn't want to make this an all day project…but I had a better idea. Stained wooden shelves! My husband keeps tons of scrap wood pieces in the garage, so I crossed my fingers that I would find the right size to fit. I totally lucked out! I found two 6′ long boards (of really nice wood!) and the 7″ width was just exactly what I was looking for too. I had my husband cut five 24″ long pieces for me.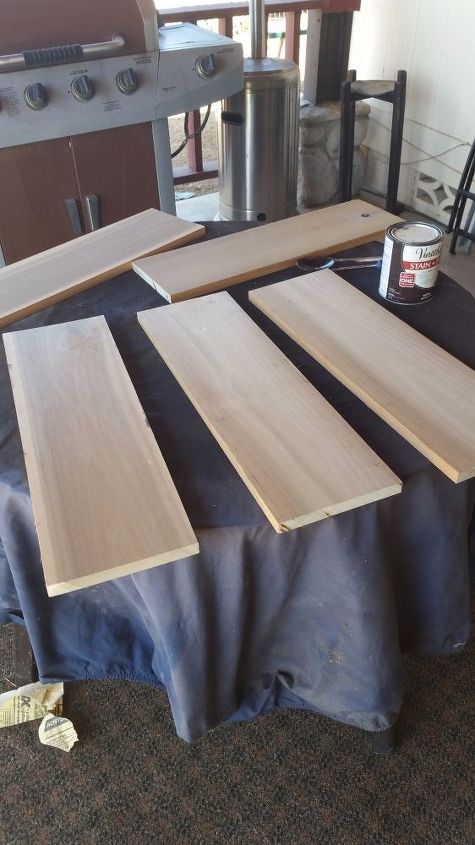 I LOVE TO STAIN WOOD. In fact, I hope someday to stain all of the cabinets in my house. Squeeeeee! Today, however, I just stained 5 pieces of board for this patio project. I'm not real big on using a brush to stain…maybe its because the brush strokes bother me, or maybe the brushes are just too hard to clean up afterward. Not sure. My "go to" is to use an old sock. First I wrap my hand in a plastic bag (rubber gloves work too) then I put the sock over the plastic bag. This helps keep the stain off of my hand. Being that I was in a time crunch, (and admittedly I'm a little impatient) I only went with one coat of stain…it dries very quickly so this took me less than half an hour to stain all 5 pieces.
To Keep Reading Please Head On Over To Next Page Or Open button (>) and don't forget to SHARE with your Facebook friends